Facts About Zach Mettenberger, QB, LSU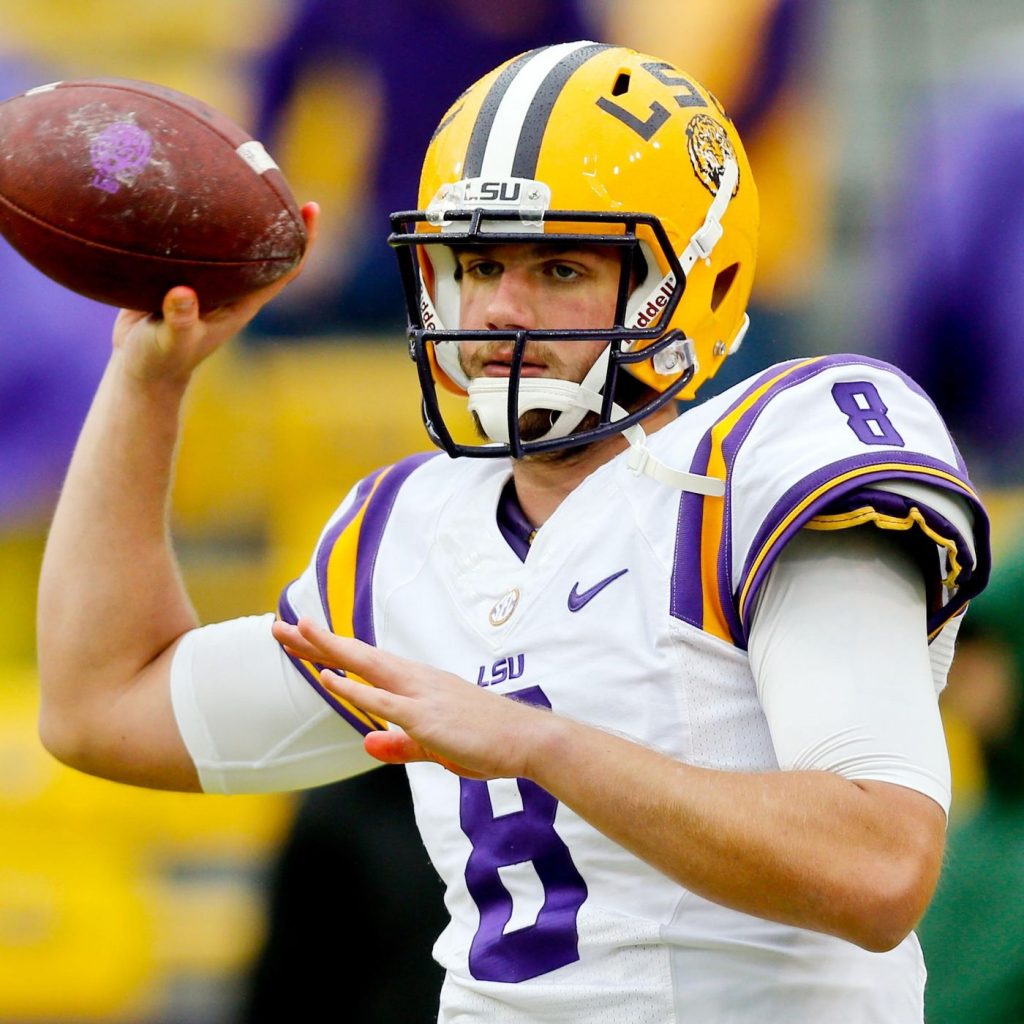 Zach Mettenberger Biography
Date of Birth: 7/16/1991
Birthplace: Athens, GA
College: LSU
Zach Mettenberger Career Statistics
YDS: 2,347
TD: 12
INT: 14
For this and all our biographies, we ensure to conduct a detailed research to ensure we not only state facts but also for our readers to get full information about their favorite players.
Zach Mettenberger Biography Brief
Zach Mettenberger was born on July 16, 1991, in Athens, Georgia. He went to Oconee County High School in Watkinsville, Georgia. Rivals.com ranked him as the 11th best pro-style quarterback in his class with six interceptions and nineteen touchdowns as a senior in the football team.
He joined the University of Georgia and still played for the school team. However, they sent Zach out of the team due to a violation of the team rules. He transferred to Louisiana State University prior to the 2011 season.
Zach Mettenberger injured his ACL in LSU's final season game and underwent surgery. Tennessee Titans drafted him in the sixth round during the 2014 NFL Draft.
Like most celebrities, Zach has tried to keep his relationship status private. Online rumors have stated that he had at least one relationship in the past and has no children.
He is currently a free agent. Mettenberger has played for the Pittsburgh Steelers, the San Diego Chargers, and Memphis Express. He is 101 kilograms and 1.96 meters of height. Mettenberger has tried several attempts to rejoin the NFL.
To gain attention, he joined The Spring League in 2018 but they just assigned him to the west team.
Zach Mettenberger's Early Life
His early life in Athens, Georgia, USA, inspired him to take up football. He was a star senior on the football team at Oconee County High School in Georgia. Then, when he enrolled at the University of Georgia, he took up college football as a sport. In order to further his athletic career, he transferred to Louisiana State University. The Tennessee Titans selected him in the 2014 NFL Draft, marking the beginning of his professional career. A later version of his career saw him suit up for the likes of the Memphis Express, San Diego Chargers, and Pittsburgh Steelers.
College Life
In 2009, Zach Mettenberger enrolled at the University of Georgia and began his academic career there. However, he was quickly dismissed from the squad for rule violations. His guilty plea to two counts of sexual battery stemming from a 2009 incident in a pub in the Valdosta, Georgia, area was accepted the following year in 2010.
After that, he went to Butler Community College, where he started playing in 2010. He had a fantastic performance, tossing for 2678 yards and 32 touchdowns while also throwing just four picks. The college squad he captained to an 11-1 record was undefeated under his direction. Moreover, he guided them to the Junior College National Championship Game.
Zach Mettenberger moved schools once more, this time to Louisiana State University, before the 2011 season began. In his first year at LSU, he was 8-for-11 passing for 92 yards and a touchdown. They went 10-3 the following season under his direction. He had a completion percentage of over 58%, throwing for 2609 yards and 12 scores while also throwing seven picks.
In 2013, he made history by becoming the first quarterback in LSU history to throw for 2,500 yards in a season twice. Additionally, he was twice named team captain. Unfortunately, he tore his ACL in the season-ending game versus Arkansas and required surgery.
Thirteen weeks later, he was cleared to take part in the team's Pro Day. He completed more than 90 percent of his passes while wearing a shoulder-padded helmet and throwing an estimated 125 passes.
The general studies degree he earned in 2013 from Louisiana State University was his capstone experience.
Professional Career
The Tennessee Titans selected quarterback Zach Mettenberger in the sixth round of the 2014 NFL Draft. On September 28th, 2014, he made his NFL debut in a game that resulted in a 41-17 loss to the Indianapolis Colts. They lost 30-16 to the Houston Texans in their next game.
His final stats for his rookie year were 8 TDs, 7 INTs, 1412 passing yards, and 4 rushing yards. Unfortunately, the Titans lost all of his games. He passed for 935 yards and four touchdowns with seven interceptions in his second season as a starter. He added 8 yards on the ground and a touchdown with his rushing. On May 16th, 2016, he was officially waived by the Titans.
Next, Zach Mettenberger signed with the San Diego Chargers, however he was cut before being able to play a single game for the team. Soon after, he was signed by the Pittsburgh Steelers. However, he did not play in any games during the 2016 NFL season.
After selecting Joshua Dobbs in the fourth round of the 2017 NFL Draft, the Steelers waived him. His repeated attempts to get back into the NFL were fruitless.
He joined the Alliance of American Football's Memphis Express in August of 2018.
In the first week of the 2019 Alliance of American Football season, Zach Mettenberger was the backup quarterback. The head coach, Mike Singletary, announced his selection as the new starter on February 25. In his first career start, he was successful in 18 of 25 throw attempts for 174 yards and a score against the San Diego Fleet. He also helped his team win by running for another position and scoring a touchdown (26-23).
On March 16, 2019, however, he was injured and replaced by Brandon Silvers. In April of 2019, the league officially disbanded.