8 Best Football Helmet Designs
No player wishes to miss the next match due to injuries that could have been prevented. Over the years, technology and research used to design football helmets have improved. It is vital to value life outside the field, which will only happen with the right helmet.
The best football helmet designs also include excellent features that will help improve you game performance by feeling safe, improve field safety, and comfort. This article has highlighted football helmets with the best designs to help keep a football player comfortable throughout the match.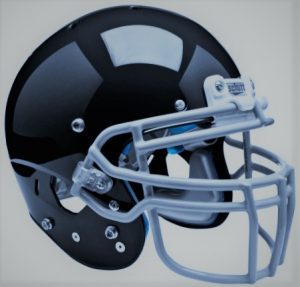 The football helmet is suitable for any position featuring a VTD TPU cushioning to take in impacts, especially when the tackles are strong. The SUR-FIT airliner provides the player with maximum support and comfort to fit any head size. Its lightweight material consists of jaw pads, fast curves, and a stiff cup chin strap for extra support and a snug fit. It does not include a faceguard, but one can purchase and attach it to the helmet through the twist release system. Among the best football helmet designs is the Schutt Air XP Pro that will improve field performance and protection.
It is among the most popular helmets with maximum durability, comfort, and ideal for skilled positions. It features a patented flex system to reduce head collisions and injuries while playing. The Riddell SpeedFlex is mostly ideal for college and high school football players due to its high safety level. It has a shock absorption system that distributes hits on the entire surface of the helmet. Designers of this helmet include improved technology and research to develop a high-quality product with a stylish design.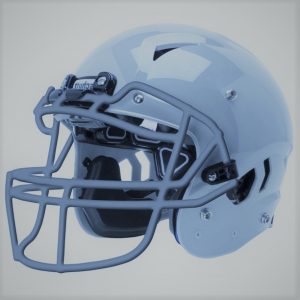 It is important to understand safety aspects, especially on football, because security is the leading role of a helmet. The Schutt Vengeance A11 features a TPU cushioning that gives more comfort and a pillow-like feeling. The inner lining controls sweat accumulation and keep the head cool throughout the match. The Schutt brand is among the top leading brands with the best football helmet designs with a wide range of colors to help you match with the gloves. Although it does not include a facemask on the purchase, it is easy to purchase and attach one depending on the field position. The lightweight material enhances more comfort and freedom to run around without any extra weight on the head.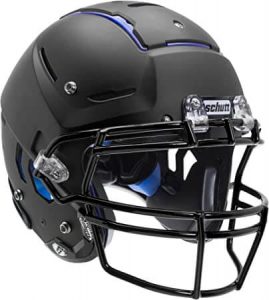 It features an ABS plastic shell that offers more protection and durability, especially to young athletes. The shock-absorbing technology reduces the force of impacts by equally distributing them throughout the surface of the helmet. Inside the inner band is a silicone that makes the helmet fit according to the head's shape. Its price is affordable to all players and would be the ideal gear to build a career because among the best football helmet designs is the Schutt Sports F7 will ensure safe matches all through.
5.     Riddell Precision Fit
It is highly expensive and suitable for players who are ready to part with a considerable cash sum. The Riddell Precision fit consists of a 3D technology, a feature that ranks it among the best football helmet designs. It offers a good fit because designers have to scan your head to ensure the helmet fits well with the skull. It also features a combination of speed flex technology and Riddell speed to produce a football helmet's unique design. It offers total safety assurance in the field through such impressive features and systems.
Pros
Good ventilation
High level of comfort and safety
High-quality design
Customized fit
Lasts long
High vision
Cons
6.     Schutt Vengeance Z10
Available in all sizes, it features a lightweight material to enhance more safety and freedom of movement. The Schutt Vengeance Z10 has a titanium faceguard and SUREFIT airliner on both sides of the helmet to minimize the impact. It comes in a wide range of sizes with the ability to protect the head from collisions and any other related injuries. The helmets consist of a unique design with amazing features to help players, especially linebackers, take their game to a high level.
Pros
More comfort
Adequate protection
Great view
Lightweight design
Titanium faceguard
Wide range of sizes
Cons
7.     Riddell Victor
Its design equals a speed flex helmet featuring a patented side impact protection for maximum comfort, safety, and less moisture accumulation. The inflatable jaw pads ensure extra comfort and safety while inflatable airliners give the player an adjustable fit. It is easy to remove and clean the inner liner cloth using a washing machine. The newest helmet in the Riddell brand consists of an S2B facemask and ABS plastic material, more suitable for a football beginner. Selecting the best football helmet designs would be a tricky task because it has to go along with safety and comfort.
Pros
Proper ventilation
Maximum safety
More comfortable
Lightweight
Sturdy material
Lasts long
Stylish look
Cons
8.     Schutt DNA+ Pro
The design of this unique helmet can oppose impacts effectively. The Schutt DNA+ Pro features TPU cushioning for maximum protection and a foam layer that draws away sweat, especially during hot seasons. It has an Air-Loc technology to withhold air during a match and a wide area on the visor for improved vision. The material used to design this helmet is light, including an ABS shell on the outside to provide extra protection. Besides, it has an inner cushioning for constant airflow and an attached SUREFIT liner to improve comfort.
Pros
Maximum safety and comfort
Hygiene and heat manageability
Good airflow
Lightweight
Improved vision
Unique design
Cons
Difficult to repair
Lacks the attached facemask
Conclusion
If you are investing in the best football helmet design, be sure it will also meet all your needs in the game. It should be of high quality to increase the effectiveness and make you feel worth investing. Those players who wear helmets to look great in the field would be the ideal review to go through and get a well-designed helmet. Besides, manufacturers have included the current technology to design football helmets with stylish looks and excellent features that will offer adequate safety. Football players need to be wise during the selection to avoid low scores and take their careers to higher levels.