5 Best Football Gloves in Rain and Snow
Football gloves have taken a special place as an essential gear among players regardless of their abilities and age. You will always require skills to keep and control those fumbles and passes whether you got the right gloves or not.
Football hardly stops due to weather. Therefore, it would be best if you had the best football gloves in rain and snow to master the harsh weather matches for you to participate without slipping or dropping the ball.
The best football gloves in rain and snow provide the best grip regardless of its thin material. Players will always get in the field be it in snow, hail, or ice. In this article, we have detailed 5 best football gloves in rain and snow can help improve their protection and performance in the field.
Best Football Gloves in Rain and Snow
The Under Armour Nitro is ideal during wet weather for extra protection and fewer hand injuries while playing. It is an affordable pair with excellent ball control, and regarding the tack, its ultra-sticky is dependable. With its seamless power catch panels; there is less worry of finger twist while playing. Also, the high compression and heat gear ensure your hands stay dry, cold, and light all through. There is more wrist support through the integrated neoprene strap. Along with that is the UA Glue Grip feature that keeps your pair of football gloves sticky all through its use.
Pros
Durable and high-quality material
Increased wrist support
Machine washable
Meets all the NCAA, NFHS, and NOCSAE standards
Less finger twist
Sticky all through
Lightweight
Custom-fit
Cons
It is one of the most affordable pairs with superior grip-ability and flexibility. To suit any field and weather conditions is a seamless grip-tack palm with a silicone design that offers continuous grip. The Adidas Adizero 5 Star is a different pair from the others because it comes with extra padding to enhance hand protection, warmth, and durability. Besides, it features a neoprene band on the wrist for a snug fit along with 7 different colors and 6 sizes to select. Also, check out our guide on how to clean football gloves.
Pros
Excellent grip-ability and flexibility
Extra hand protection
Less expensive
Different colors and sizes to select
Good grip
Secure fit
Durable
Cons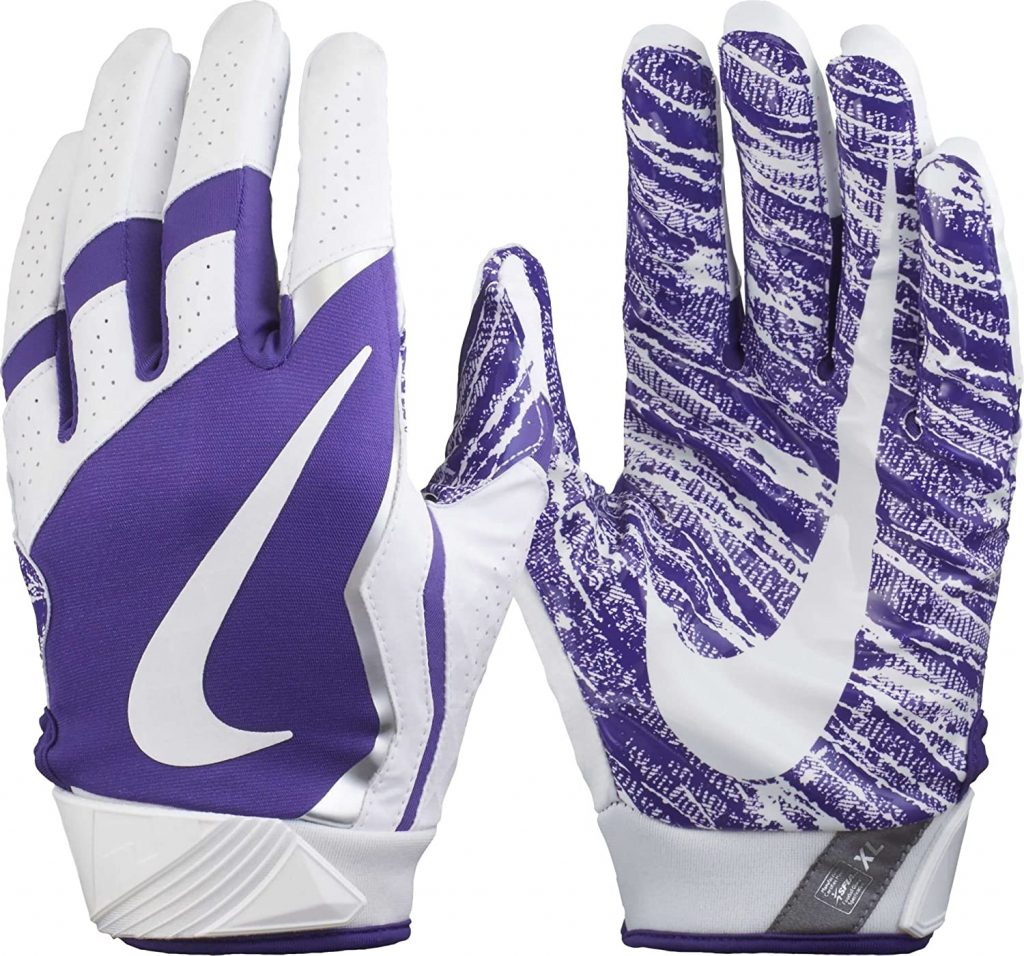 The Nike brand has contributed significantly to the list of the best football gloves in rain and snow. One of the amazing features of the Nike Vapor Jet is the pre-curved fingers that provide a good fit and minimizes fatigue. It features a Mani grip high-tack technology that ensures an excellent grip in all weather conditions. The breathable mesh material maintains good airflow, draws away sweat, durability, and the lightweight feel. If the game gets tough, the padding on the fingers and crash pad at the back of the palm provides extra protection. check out our guide on best football gloves for youths.
Pros
Provides extra protection
10 color options
Lightweight
Superior grip
Good fit
Breathable
Durable
Cons
The Battle Ultra-Stick pair of football gloves consists of a good quality adhesive material that gives it the grip-ability to handle and catch the ball. It has revolutionary Blad-span technology for breathability and flexibility of your hand. There are 10 different colors and sizes to select according to your needs. To add, it suits both female and male football players. our handy guide on best football gloves for linebackers has more products like this.
Pros
Suits both female and male players
Different color options
Breathable and flexible
High-quality material
Good grip
Cons
If you ask football players for a brand they would recommend with the best football gloves in the rain and snow, most would name the cutters. With its superior C-TACK grip designed with the latest technology, players are can take their game to the next level regardless of the environment.
Cutters Rev Pro has excellent impacts on performance, durability, and fit while the lightweight material and a flexible back provide maximum comfort to your fingers. Besides, a simple wipe using a clean cloth or towel reclaims the grip and a brand-new look. You have a perfect choice with many color options and sizes.
Pros
Flexible and lightweight material
Different sizes and color options
Snug fit with comfort
Durable and high-quality material
Cons
What to Consider When Purchasing A Pair of Football Gloves
Every player has different needs when purchasing a pair of football gloves. However, it is vital to look at the weather condition at the time of your match. The following are the factors to consider when looking for the best football gloves in rain and snow.
Football glove grip
You do not wish to have slippery hands when running down the field or catching a pass. The tack should be of high quality to help you in gripping the ball. When it rains, a glove with a low grip gets worse, and that will affect your performance. The Cutters C-TACK technology covers your fingertips, palm, and fingers with the grippiest material.
Comfort and fit
We all like being comfortable regardless of the situation. A football glove should fit well with comfort without being too big or too small. Small gloves will not give you a tight grip of the ball while loose ones will slip on your hands, making you uncomfortable. Before you purchase a pair, consult the sizes first to avoid disappointments. With that, you will be able to perform well and take your game to a higher level.
Conditioning your football gloves
Always confirm with the manufacturer whether the pair of football gloves you intend to purchase is machine washable. Mud and rain conditions are not perfect for conditioning your gloves. If you fail to store them properly after a rainy match, they may crumple up or get hard. Ensure you remove all the sticks and treat them as if they were your hands.
Can Gloves Rip in Wet Weather?
During wet conditions, football gloves are most likely to rip out because the material tends to soften and that can be vulnerable during ball contacts. To avoid this, dry them well after cleaning and ensure they are in a safe place.
Safety tips
A lot of water makes the glove surface slick because the materials used to design are mostly polyester and silicon. When they are excessively wet, the stickiness becomes less effective. To get the best football gloves in rain and snow, you must consider some safety tips too.
Drying them is difficult, especially when drenched in water, and that might affect your game. That is another reason why you need an extra pair purposely for such conditions. It is essential to have a dry towel nearby to wipe off your gloves during breaks. That will help reclaim the stickiness of your football gloves and improve game performance. It is okay to use a regular towel, but designers recommend that you get a towel built for such situations.
Conclusion
Participating in a football match with or without gloves is a personal decision. However, you cannot be sure how safe your hands are without football gloves. Football experts advise that you get an extra pair for practice to help improve their durability.